Geerhardus Vos was a Dutch theologian who taught in American seminaries for over four decades spanning the nineteenth and twentieth centuries. He's probably best known for his Biblical Theology, but that's changing now that his work in systematic theology has been translated into English by Richard B. Gaffin Jr. Lexham Press has just published Reformed Dogmatics: A System of Christian Theology (Single Volume Edition). Dogmatics is synonymous with systematic theology. This is a book of systematic theology. And, if you've never heard of Vos before, just think of him as one of the Three Ninjas of Dutch Reformed theology along with Herman Bavinck and Abraham Kuyper. They were all on friendly terms with one another. Kuyper tried to get Vos to come to teach at his institution. Bavinck did the same. So if you like one, you'll probably like the rest of the bunch. 
This edition of Reformed Dogmatics was originally released in a steady stream of five single volumes as Gaffin translated them. And Lexham has done us a tremendous service by compiling these into a single convenient and affordable volume. At over 1,200 pages, it's surprisingly slim. But there's a tradeoff when it comes to ghosting from the print on the other side of the page. The paper isn't opaque, but you will be keenly aware that there is text behind the piece of paper you're reading.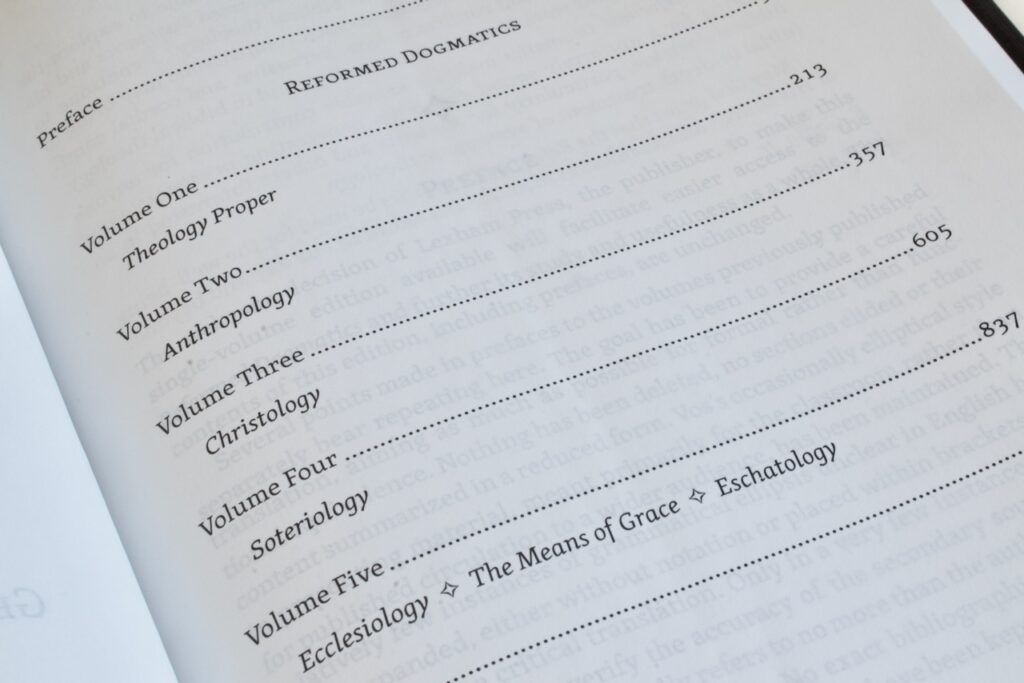 But how about those words and what they say? I was surprised when I first opened the book. Have you ever spent any time in Summa Theologica by Thomas Aquinas? It's a book of theology presented in question and answer format. And that's how Vos presents his theology. He responds to questions like "What is the repentance of God?" and "What are the evidences for the doctrine of the perseverance of the saints?" I didn't know this was how Vos was going to read, but I've grown to really appreciate it. I've never read Kuyper, but I do read Bavinck. And, to me, he's best read in small doses. Sometimes, I get lost in who or what idea he is responding to. But with Vos, there is no question. His theological prose are so readable. I can enjoy reading Vos at length as he walks me through a theological education. And that's what this book is. It's the fruit of Vos's lectures in the classroom. It's academic. So expect precision and depth. But it's also extremely clear. It's truly theology you can spend an enjoyable evening reading on a comfy chair. (Trust me, I've done it.)
So you can read this book cover to cover, but how does it play as a reference? The material is arranged broadly. You won't find subheadings. Just to give you an idea of what I mean, the entire book is made up of five volumes and the first volume has seven chapters. And the logically-arranged questions are the only organizing scheme within those chapters. So this organizational style of the book raises the question of its qualities as a reference. Will you be able to locate what you're looking for in a book with an extremely broad topical arrangement? Yes. You can, thanks to a handy "Question Index" at the end of the book. You can scan down the list and find exactly what you're looking for. This is a saving grace. I wouldn't recommend this book as a reference if they would not have included this index. Of course, there's also a good "Subject and Author Index" and "Scripture Index" as you would expect to find.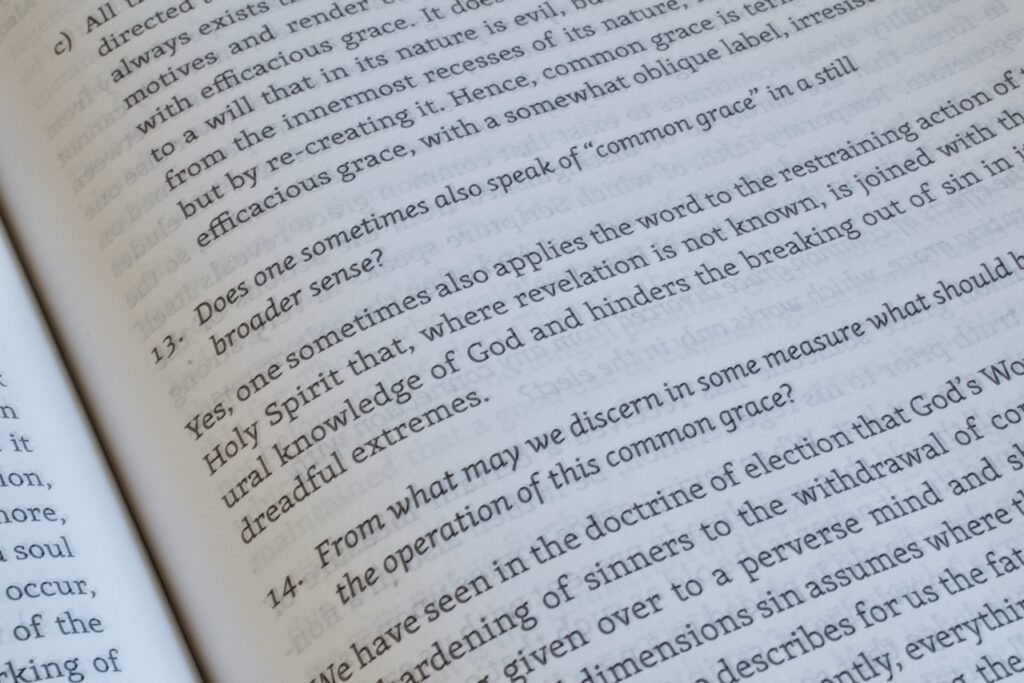 I always point out that while I don't consider myself Reformed, I believe the theologians of the Reformed tradition have much to offer. And it would be foolish to ignore the theological riches learned and godly men like Vos have gathered and expressed their thoughts on so well. Reformed Dogmatics is a gift to pastors and serious theological students. Its technical nature keeps me from recommending it to anyone as a starting point for learning theology. But if you already have some theological training or solid personal study under your belt, then you are probably equipped to handle Vos. And, hey,  if you've been wanting to jump on the "Bavinck Train" and see what all the hype is about, maybe start with this lighter (and cheaper) point of entry into the world of Dutch Reformed Dogmatics. 
Special thanks to Lexham Press for providing me with a free review copy of this book. This did not affect my thoughts regarding this work.